Forest Grove Merchants & Event Coordinators, Paint the Town is happening again in 2022!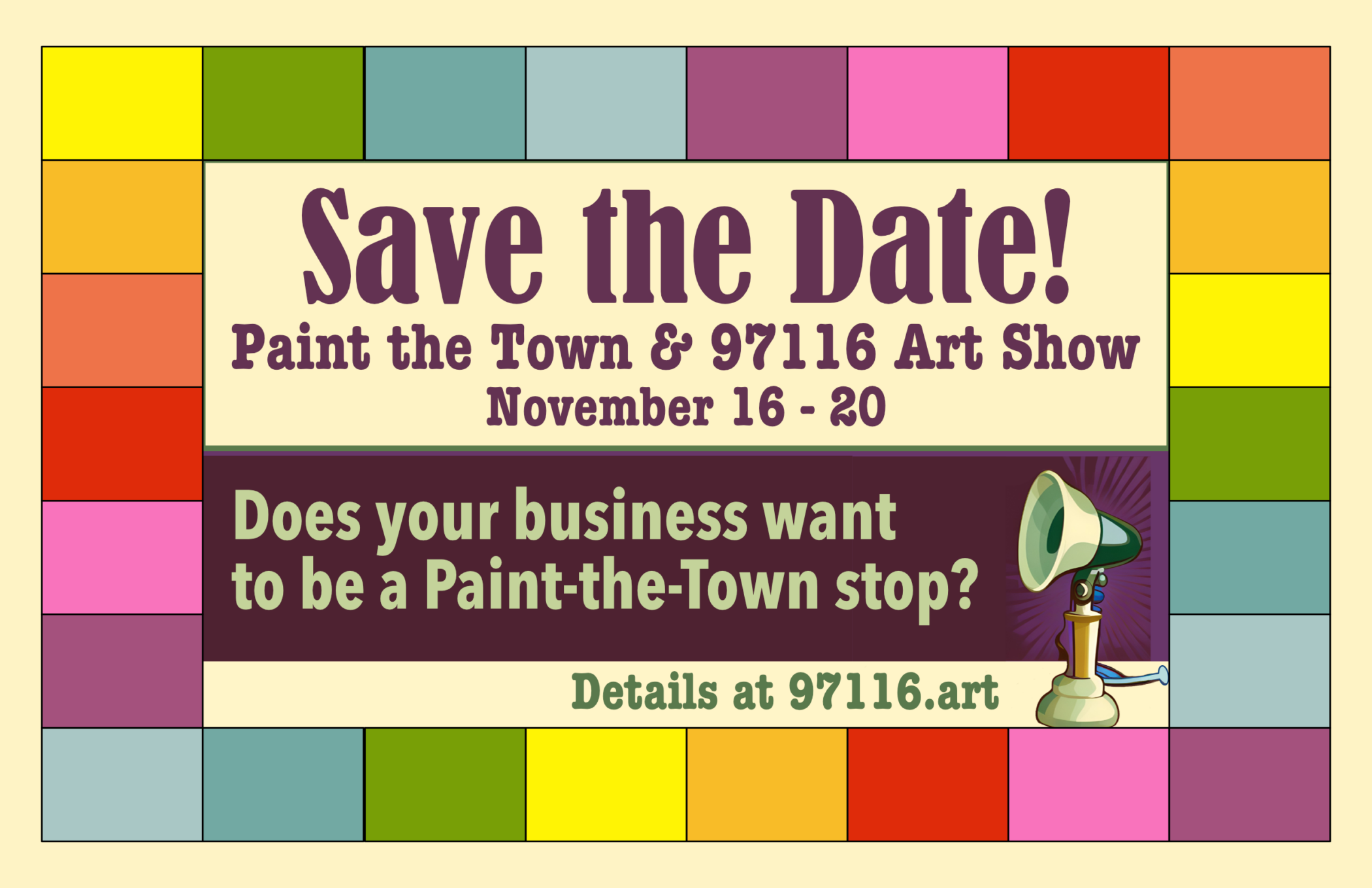 You're invited to join Paint the Town, 97116 Art Show's way of increasing community involvement.
97116 Paint the Town is a citywide Forest Grove event coordinated by 97116 Art Show, allowing the public a reason to visit local establishments while attending our pop up exhibit. 97116 Art Show happens annually in November. Hundreds of people visit the show over the weekend.
What you get:
Exposure to new and return customer base
Listing on the game card
Logo and link advertising on 97116artshow.com
Special hours and/or concurrent event mention on website (if applicable)
Logo and mention in our Facebook event discussion
Co-host link on the Facebook Event (if chosen)
Placement on the Paint the Town Google Map, for techie trekkers
Hopefully, future patronage from prize winner(s)
What you give:
$35 print advertising fee + $10 in gift card / certificate / or merchandise, for prizes
Space in your establishment for a vertical 8.5 x 11 info flyer for gamers from Nov 16-20
a place for game cards to be stacked or handed out, and space for a pen receptacle. (This eliminates the need for stamps and may eliminate any need for staff interaction)
If this sounds like an exciting opportunity, please visit the Paint the Town Google Form. Register by Oct 31, and one of us can pick up your $10 valued gift card or merchandise some time after that.
If you don't think you want to deal with the game board and increased foot traffic, we're also searching for sponsors. If you would like to sponsor exhibit needs, reception catering, or increased advertising, visit our donation link. Additionally, are you an artist or know one? The deadline to enter the art show is also Oct 31st, with work due Nov 13 & 14.
Thank you for taking the time to consider this fun Forest Grove event, and if you get the time, come see the work on display at the 97116 Art Show. The plan is to be in the old News Times building, thanks to Chris at John L. Scott.