Submissions for 2022 are closed as of Nov 6
If you would like to be added to our newsletter for future notifications, please add your email address to our MailChimp list.
Only Columbia, Washington, and Yamhill County residents are eligible to enter, all ages and skill levels welcome. Artwork must be for sale. Minors under 13 must have parent submit entry. Everyone is welcome to attend the free event November 18 through the weekend.
Submissions are closed as of Nov 6. Images received by October 31st will be considered for print advertising, later images may be used on social media.
Artists, we're accepting: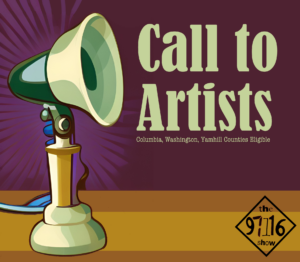 Ready to hang art in
All Shape formats
Max size 12 x 12 inches
Max weight 3 lbs
Max depth 6 inches
Max quantity 5 pieces per artist
Max price $150 each (: this is Forest Grove's Sesquicentennial year 🙂
Max 12 x 12 does not mean it has to be square, it means neither height nor width may exceed 12 inches for 2D work.
3D Pieces
Max size 12 x 12 x 12
Max weight 10 lbs
Ready to display
Max quantity 5 pieces per artist
Max price $150 each (: this is Forest Grove's Sesquicentennial year 🙂
Limits are small and lightweight because we are a grab-n-go show.
Originals only – painting, drawing, fiber, collage, glass, clay, metal, assemblage, photography, prints of graphic art, personally produced video stills, hand pulled printmaking, etc. As long as it meets the criteria above, and isn't a reproduction not listed it should fit. Ask if you aren't sure.
If you are a 3D artist we are showing 3D work this year! Let us know if you're also interested in participating in the cordoned off adult themes area, please check those boxes during registration.

NO ARTIST ENTRY FEE THIS YEAR!
97116 will take a 20% commission to cover partial production costs and support this year's charity, Hope Community Network. Artists get 80% of sales. All work must be for sale.
Artists must submit their entry using the 2022 Artist Registration. Once you're done registering, please email us an image when you have work ready so we can promote it. 97116artshow@gmail.com
Thanks for your interest!