We are delighted to welcome everyone to the gallery during our celebrated Annual Artist Event, Nov. 10-19. This year's theme is "We the Artists" – and "we" always have something to show and, frequently, something to say. Forest Grove and Washington County have many dedicated Valley Art enthusiasts.
For 57 years — our gallery was founded in 1966 — we have sought the best art to display and sell. Our 10-day event begins with a reception on Nov. 10, from 7-9 p.m. During the 10 days of AAE, we offer new, renewing, and current members a one-time 10% discount during the event. Members are encouraged to bring a guest with them, although they won't receive the 10 percent discount unless they become a member for $25 that night. Look for your brochure and tickets in the mail.
There will be a raffle during our members' night reception, with a variety of great prizes. Tickets will be available for $2 each. Buy several! The Annual Artist Event hours will be Monday-Saturday, 11 a.m. – 5:30 p.m.; and on Sunday, 12 – 4 p.m. Please join us. Come and "shop local" this holiday season and find one-of-a-kind gifts for friends or family.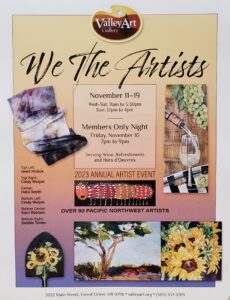 - this artist from @va_association ; https://www.facebook.com/ValleyArtForestGrove/ county -